Finding Balance with Nutrition & Yoga Mini-Retreat
May 20 @ 12:00 pm

-

4:00 pm

$60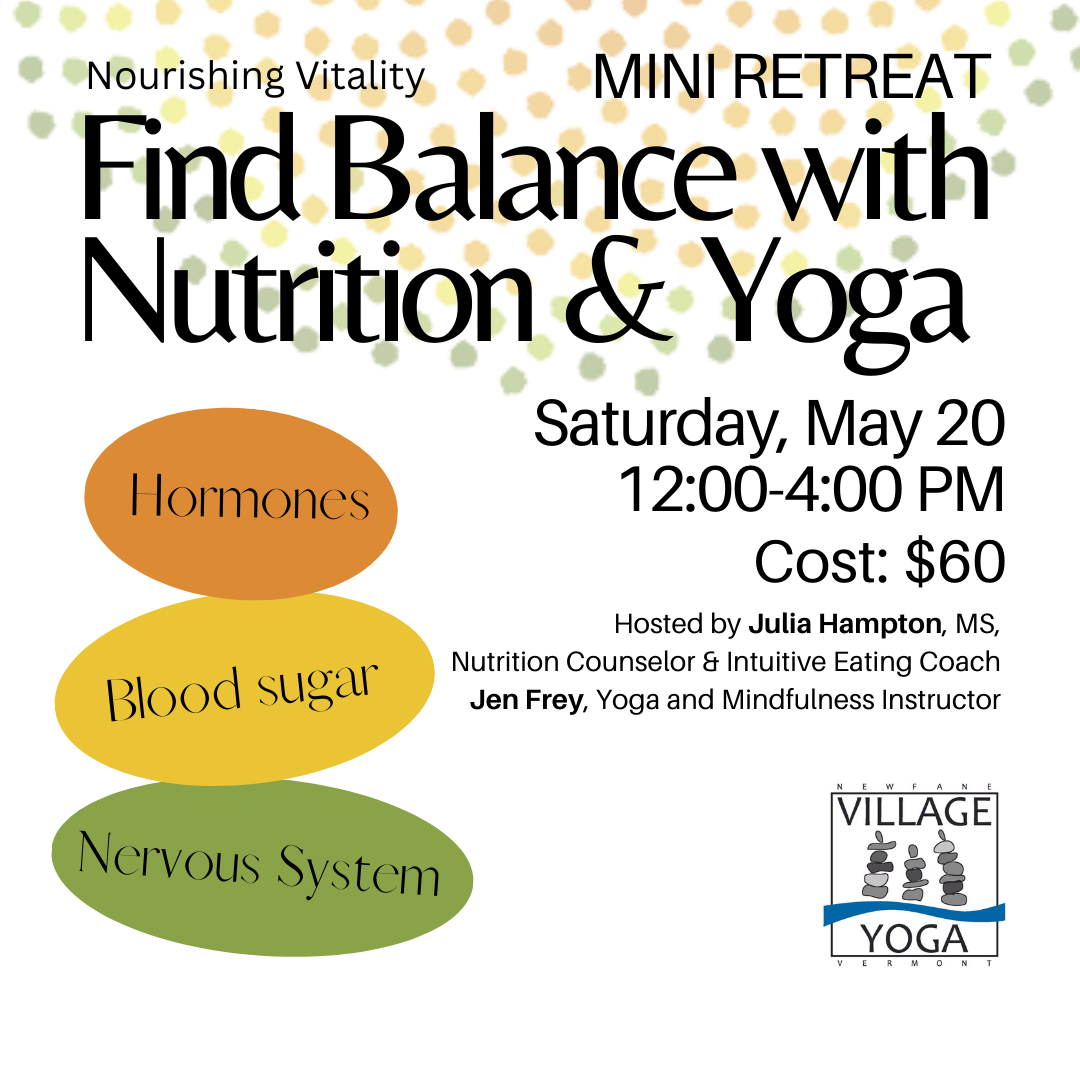 Life is challenging.  You're trying your best but are feeling out of balance.
In this mini-retreat, you will learn the foundations to regain balanced energy through hormone, blood sugar and nervous system regulation.  You will experience ways of tuning into your body wisdom to guide you in feeling your best.
Picture this
You have energy all day for work and play.
You meet challenges with grace and ease.
You feel confident about your food choices.
You notice signs of stress and can shift back into a neutral, calm state
This retreat is for you if
You push yourself at work all day and end up crashing at night.
You try to eat right, but then end up gorging on something that's so tasty and feel bloated and guilty.
You squeeze in workouts and walks, but still feel tired.
You're in a new life stage and trying to make sense of how your mind and body are changing.
You've hit a low point, feeling exhausted and resistant to mustering the energy to try another lifestyle change.
What to expect
Engage in a yoga practice that includes breath, meditation and movement. Build tools that help connect the body and mind in a way that leads to a clearer picture of what the body needs. (suitable for all levels – beginners welcome!)
Gain an understanding of the dynamic function of hormones in your body and two foundational ways to support hormone balance.
Deconstruct old patterns that keep you stuck in a frustrating cycle with food and your body.
Learn how to maintain your energy through body attunement, balanced meals, and stress management techniques.
Experience mindful eating as you enjoy delicious balanced snacks!
ALSO INCLUDED:
* Personalized Nutrition Consultation to gain feedback on your unique situation
* A yoga class of your choosing at Village Yoga in Newfane