Cravings & Stress Relief: Workshop & NADA Therapy
December 5 @ 5:00 pm

-

6:30 pm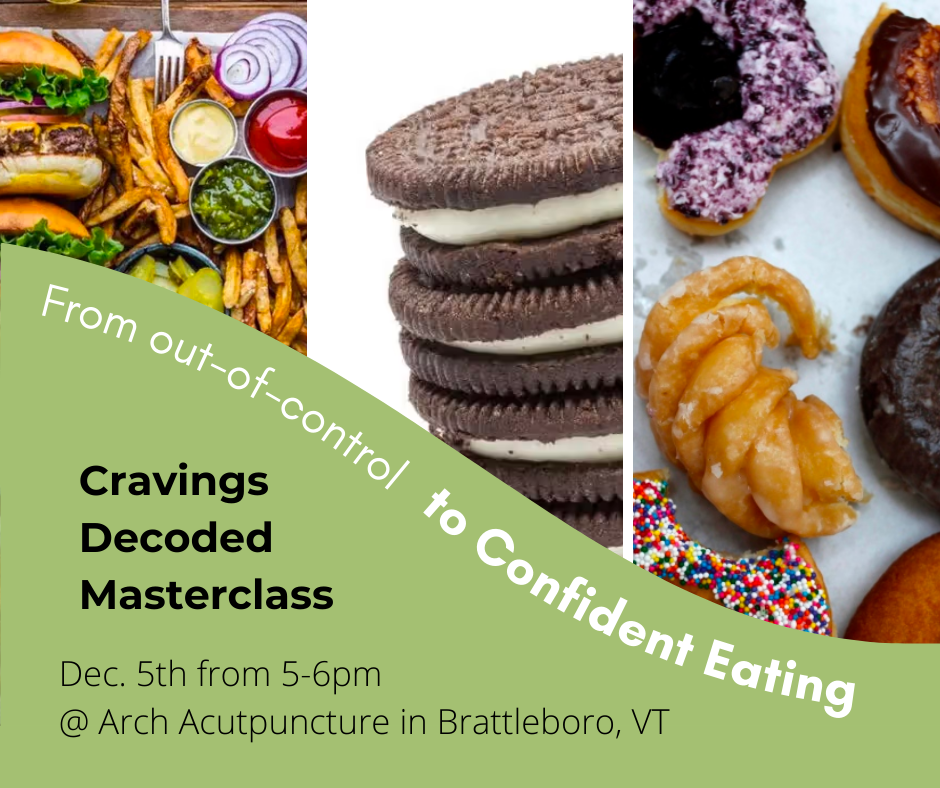 Create a Balanced Relationship with Food with this Holistic Approach
Tuesday December 5th from 5-6:30pm
IN PERSON @ Arch Clinic of Acupuncture, 11 University Way Suite 4, Brattleboro, VT 
This offering is for you if
You struggle with food cravings

Feel out-of-control around food

Are tired of feeling guilty about your eating
Join this two part offering to 
Create a new way of thinking about cravings and your eating patterns

Learn strategies for mindful and balanced eating

Gain a sense of calm and well-being

Learn tools to manage stress in daily life
PART 1
Cravings Decoded Masterclass
Cost: $25 with Sliding Scale of $10 or $15
In this class, Julia Hampton, Non-Diet Nutritionist, will guide you through a systematic way of assessing the root cause of your cravings and teach you a 3 step process to gain control of your eating.
You will leave this class with a better understanding of yourself, your body and your relationship with food.  And have clarity about the next steps to take in creating a more balanced way of eating.
PART 2
NADA Therapy 
COST: Sliding scale of $20-$40 to be paid at Arch Clinic
Discover the ancient wisdom of NADA Therapy, a gentle and effective approach to harmonize your mind, body, and spirit.  This therapy helps get to the root cause of your food cravings, alleviate stress and promote emotional balance.